WEEK FIVE: Creative Personal Branding Strategies for Job Search
This blog post is WEEK FIVE of the personal branding strategies series. This post assumes that you completed the previous week's assignments.
If you haven't completed it, click here to do it.
I will warn you in the beginning, some of the recommendations in the series take time, effort & sometimes money to do it.
You need to be comfortable to get in there, roll up your sleeves, and get your hands dirty.
I can assure you that it only takes the time you spend watching a single Netflix series.
So let's start WEEK FIVE tasks now
Last week, i talked about creating valuable content in your industry.
If you feel happy & contended to give away knowledge to help struggling people / Businesses, that's awesome.
The motive of creating knowledgeable content in your industry is to help people & build your reputation simultaneously.
You should draw a clear line on what you should and should not do.
Every video, answer, post, a comment you make should have ONE objective.
OBJECTIVE:
The content you create in your industry should help a community as a whole, not focused on a single person/business.
People, by default, assume that you have a lot of time to reply to comments, suggestions, etc.
You know you don't.
Once you create great content, you'll will recieve comments/emails/calls to asking for more help.
When that happens, you know you cannot ignore it, nor can you do it for free.
So it would help if you have your freelancer profiles ready.
In my experience, most people are happy to pay for the service they request.
No, you are not going to do freelancing work. You'll use these profiles to showcase your worth.
Also, when people demand too much help through comments, suggestions on your youtube video, medium posts (or) Quora answers, you'll direct them to your freelancing profiles.
Once you do some work for them, you request them a review at Trustpilot.
You use the TrustPilot review when you send job applications, talk about it as a voulunteering experiences on interviews.
You get it.
Creating an opportunity from every comment/post/email/call is possible.
So let's create your freelancer profiles now.
I'll talk about two freelancing profiles that you need to have.
One is Upwork for people who request big tasks. If the job requested takes more than a day for you, direct clients to contact you via Upwork.
Another is Fiverr for people who request minimal tasks. If the job takes less than a day, direct clients to contact via Fiverr.
Upwork profiles can be used as invite-only. You'll only share your profile with the people you are willing to work with.
It can also be changed to ONLINE/PRIVATE anytime depending on your availability. Once you get a full-time job you'll make your freelancing profiles private.
But remember the Fiverr profile is always public.
If you are presently working and your company has strict policies against freelancing, i advice to use a generic name in your fiverr profile.
The idea is to show your worth to the world with your freelancing profiles. You will not have time to negotiate with every person who requests work from you.
Know you worth and own it.
Create Upwork Profile
Upwork profile is for people who need to get big tasks done on an ongoing basis.
These are people who own a small business & cannot afford a full-time employee.
Once you create an Upwork profile, you'll get a public profile like shown below.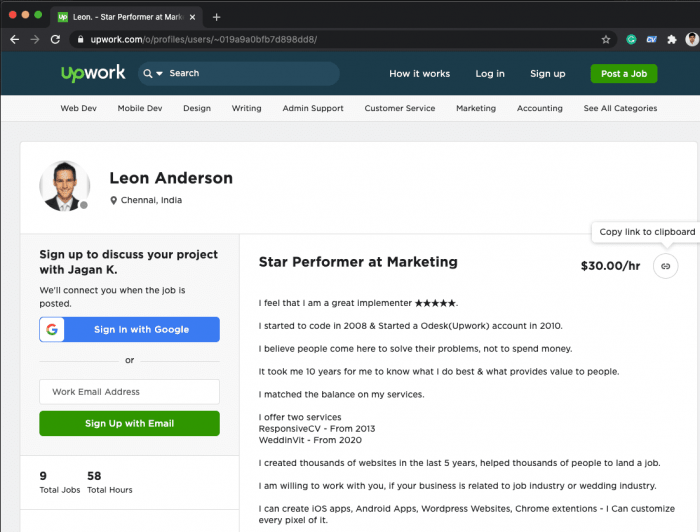 Give 100% truthful information, accurate project details. Giving any fake information can get your account suspended.
The profile for Leon Anderson doesn't exist. It's just a screenshot cooked up from my own profile to show you an illustration.
No, I don't freelance anymore. My last delivery was in 2012.
But even today, in 2021, when this post is composed, my profile is in good standing & the Upwork community has grown ten-fold.
That's why I suggest Upwork. I did have ten other freelancing profiles, but Upwork is the best in its category.
If I place my profile at Upwork as available for work, jobs come to find me occasionally.
Any work you do in Upwork is always available to showcase in the future.
Create Fiverr Profile
Fiverr is a place where you place ads to provide a service that you are very good at doing and price it reasonably.
Here's how your profile will look like once you signup.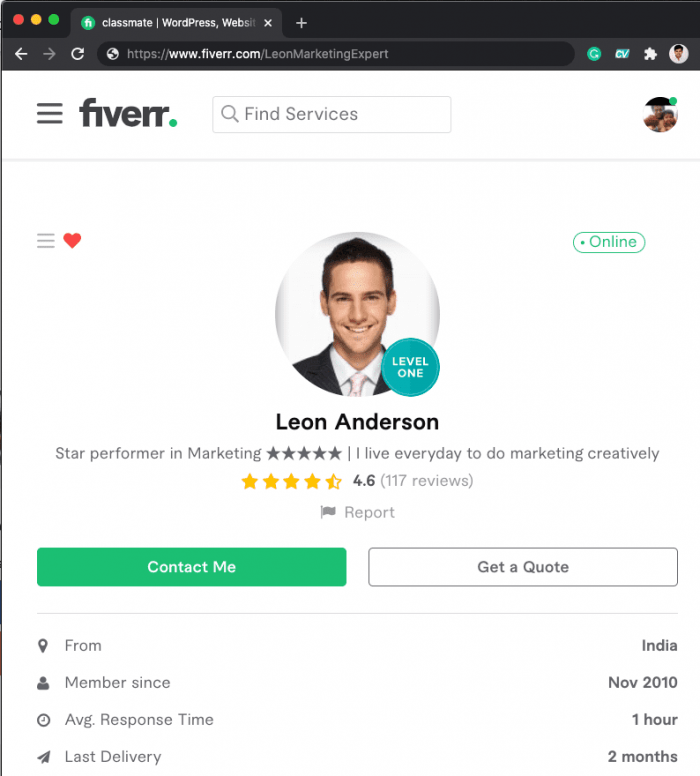 Again, It's just a screenshot cooked up from my own profile to show you an illustration.
You'll notice that i have my profile on a generic name.
You'll need to write a great ad description describing your service you choose to offer.
It can take even 4 – 5 days of your time to deliver it once you get a paid client.
But once you do the work as described in your advertisement, you will use the same work (or majority) for other clients as well.
Focus on writing an Advertisement that defines you & you will be proud of offering to people.
Use the video content you created previously for youtube.
Price it reasonably to the value you offer. For people reading the gig, it should be like a steal deal.
The minimum price you should consider is $95.
You should create a service in such a way that offers excellent value for the price.
Also, you will reuse the work again and again in the future & be better at it.
I did earn thousands of dollars from my Fiverr account long back. But all services I did way back which had excellent reviews are now outdated. So I have to disable all those services. (That's why you need TrustPilot account, which is discussed in next section)
So it would be best if you thought about the service you passionately do for five years or more.
This is a sample service I do right now in the wedding industry.
You'll notice something from the service described above.
I describe the requirements needed to start the work in the job description.
I put a sample delivery document of what the client gets once work gets completed.
The delivery document is reused for every client.
It seems like a lot of work, but I did everything after I got my first paid client. So someone paid me to do the work that is described in the ad & I will use the same work again in future.
You'll use this IDEA in subsequent weeks to create opportunities.
Create TrustPilot Profile.
Now that you have freelancing profiles, you did some work in your leisure time and got an excellent positive review. That's awesome, but not enough.
You'll never know when your freelancing profile gets suspended or what terms they change in the future.
I did get my Fiverr account service interrupted twice for violating the terms that are updated once in a fortnight.
The balance I had in my account is held for 90 days, which is released later.
The reason can be something as simple as sharing an email with the client.
I did get mine reinstated, with a warning, though.
No, I am not scaring you.
It's just a reminder for you that the goal of freelancing is not to earn a living but to use it for a greater purpose.
In my case, it's as an example to showcase it to you in this blog post. 
In your case, it can help you to land a job, a business deal, or to do what you love.
Ok, why you need a TrustPilot account?
First, No company will have a problem with a TrustPilot account. In fact, they will be happy if you say that you volunteer at NGOs, Nonprofit & request them a review for your service instead of payment.
You can ALWAYS keep your reviews active if you have a Trustpilot account.
It's just a different version of a LinkedIn recommendation recieved from people/business you worked with.
Once you create a Trustpilot account, you'll get a public profile like this image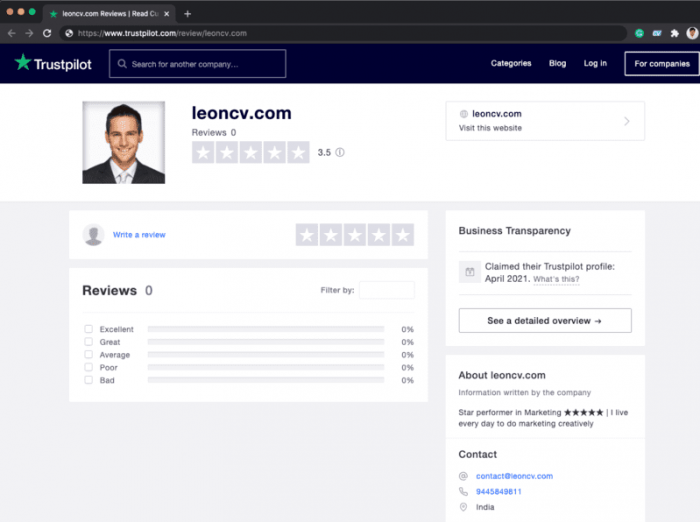 You'll get a public profile link such as
https://www.trustpilot.com/review/leoncv.com
You can share this link to people to write a recommendation or review.
After you deliver every job, you request your client to review your service at TrustPilot with this link.
With time, your reviews grow & show up in search results for your brand name.
You noticed that you need a website, SSL certificate & a professional email to create a free account at Trustpilot.
If you haven't already requested a domain for your CV, you can request it here now
You can use your Trustpilot reviews in multiple places to create opportunities that are discussed in subsequent weeks.
I know you did a lot of work so far in the last five weeks.
All work done so far are just one-time tasks. Once done, it's there for life.
The following two weeks' tasks are a process, and you will do it again and again until you see the results.
Week six and seven recommendations focus on creating opportunities with all the work you have done so far.
You know you cannot afford to sit and pray for opportunities to come to knock on your door.
You should look where others are not looking—fish where the fish is.
Some people teach you how to fish. Some people can give you the net. Some people can tell you the direction where the fish clusters are.
If you pay attention to SEEING the fish to believe, you'll not notice the people who can lead you there.
Sometimes opportunities show up in a wholly disguised form. You need to be fully aware to recognize it.
The following two weeks are focused on identifying them when it appears & maximizing it to use to its full potential.
No, I am not talking about the direct invitation to interviews here.
Even if no opportunities show up, I'll talk about how to create them with live examples.
The following two weeks' tasks are a process, and you will do it again and again until you see the results.
I sense your discomfort, but you forget the fact that you can automate repetitive tasks.
So you'll do those ONCE & Use tools to automate your work.
I discuss those in the subsequent week's post.
WEEK SIX & SEVEN is available only for our platinum users. You need to be logged in with your platinum account to access it.
Once you complete this week's recommendations, you'll have the following.
Dedicated Work Device – WEEK ONE
Dedicated Work Number – WEEK ONE
Your Brand Name – WEEK TWO
Your Profile Photo – WEEK TWO
TagLine – WEEK TWO
Short Description/Summary – WEEK TWO
Dedicated Domain Name – WEEK THREE
Professional Work Email – WEEK THREE
Banner Image – WEEK THREE
Email setup on dedicated work device – WEEK THREE
Email Signature for Work Email – WEEK THREE
Whatsapp Business on Work Number – WEEK THREE
WhatsApp Group named Documents – WEEK THREE
Work Google Account – WEEK FOUR
Google Search Console Account – WEEK FOUR
Google Analytics Account – WEEK FOUR
Bing Webmaster Account – WEEK FOUR
Youtube Channel with Work Google Account – WEEK FOUR
Medium Account – WEEK FOUR
Quora Account – WEEK FOUR
Upwork Account – WEEK FIVE
Fiverr Account – WEEK FIVE
Trustpilot Account – WEEK FIVE
Once you complete this week's recommendations, you'll have all these apps installed and logged in with respective credentials on your dedicated work device.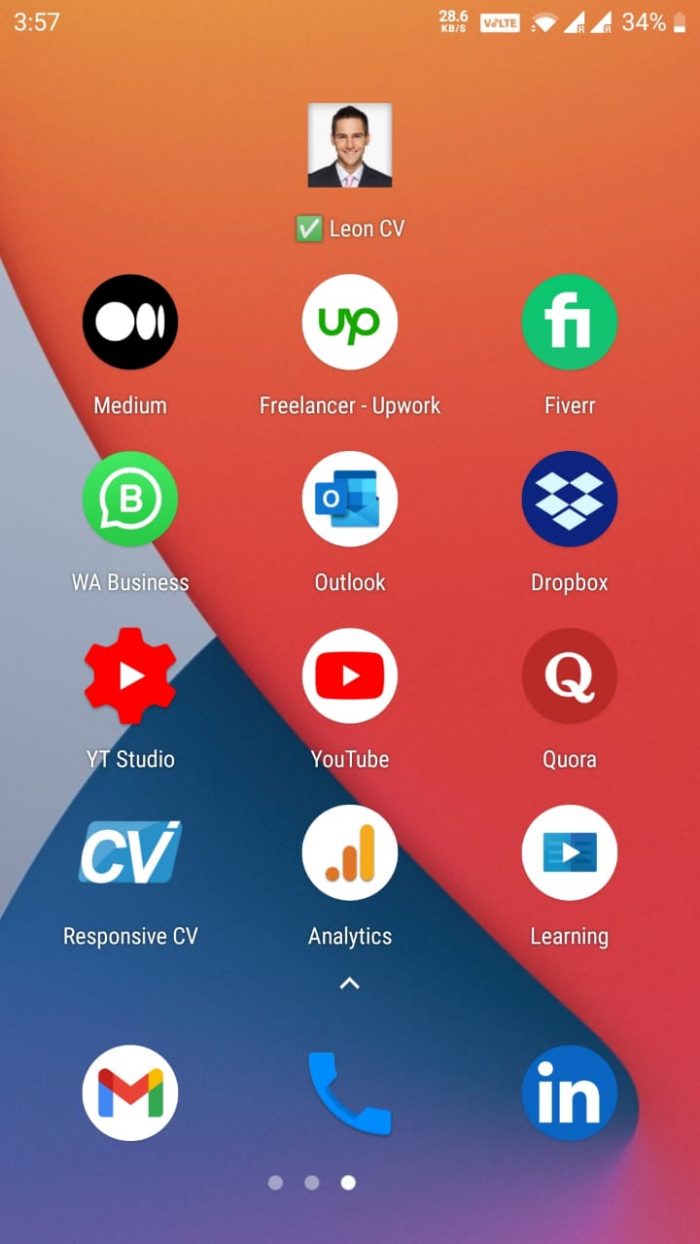 Cross-check with your phone if you missed installing any apps.
Also make this as default home screen layout.
It's also very important to not install any other unnecessary apps on the work device.
Disclaimer:
This blog post is just ONE of the series of recommendations we offer to our platinum users to establish their brand.
You need to complete all exercises & wait for a month to see the results.
You can implement this recommendation even if you don't have a platinum account
Paint our recommendations with your personality, passion & purpose, and be creative in your own way.
A CV is an Art.
We help you paint it with your personality, passion & purpose.
The goal is to build a CV that SHOWS who you are & what you are capable of achieving.